Real Estate News and Happenings From Century 21 McAlpine
The Agents and Staff at Century 21 McAlpine love our area and one another! We hope to share some of our daily activities with you and see how we might better serve our community!
Oct. 12, 2015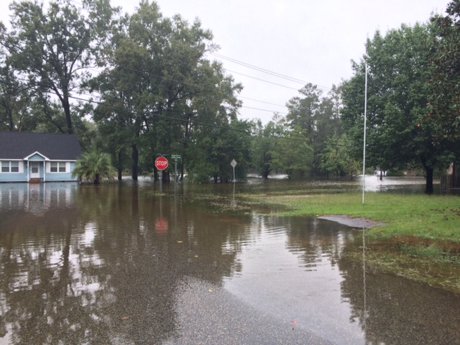 As a native of coastal South Carolina, I have seen several natural disasters affect our state. Hurricane Hazel when I was a small child and Hugo which totally devastated our Garden City family beach house and neighborhood. During hurricane Floyd we saw unprecedented flood waters in my home town of Conway, SC.
Last week we experienced similar devastation with massive amounts of rain. Governor Halley said this was a "1000 year event" with over 20" of rainfall over October 3-4 weekend alone.
Roads were impassable, folks stranded waiting for rescue teams to take them to shelters, and millions of dollars of damage to homes. It was and still is a sad time for many South Carolinians.
Now the county Emergency Operations Center is transitioning to recovery mode. There will be two FEMA Disaster Resource Centers open this week. One located in the north end of the county and the other the south end. Each center will have a FEMA representative and other federal agency representatives to help with assistance. There is help for those with no flood insurance as well as those who need help with temporary relocation. You may use the 1-800-621-FEMA number or the website DisasterAssistance.gov to register.
Aid for individual flood victims:
• 18 months of housing
• grants for replacement of personal property , medical or dental
• low interest loans
• Crisis counseling, unemployment assistance, and legal aid
Aid for county and states effected:
• rebuilding infrastructure up to 75% of the costs
The deadline for most assistance programs is 60 days following the Presidents major disaster declaration which was given on October 5, 2015.
Most of the downtown areas are clear now and the majority of roads are open. However, those living on the river and swamps will be dealing with the mud, ruined homes and impassable streets for weeks to come. I am touched by the outpouring of community support and caring.
My home church Trinity United Methodist church was not able to hold services this past Sunday and their parking lot and grounds are flooded. However, there is is no water in the building and we count our blessings.
Aug. 5, 2014
Come out and enjoy a wonderful evening of community fellowship, fun, and awareness!!! The Horry County Police Dept. is hosting a Crime Prevention & Awareness event tonight, August 5, 2014 from 6:30pm-10pm. This fun-filled event will be held at the ML Brown Public Safety Building here in Conway. There will be food, music, video games, and tons of other fun things to do all while raising awareness on crime and the prevention of crime. Come out and enjoy this community event!
July 3, 2014
It's that time of year again, and the Grand Strand has plenty of ways to celebrate our Independence.
Plan your day right and you could easily enjoy several of the exciting Independence Day activities along the Grand Strand this year. In addition to all kinds of fireworks at night, there's a military flyover, a boat parade, a cupcake eating contest, and some live music to enjoy.
Salute from the Shore
This vintage aircraft fly-by is a unique way to show your support of past and present troops. Beginning at 1 p.m. in Cherry Grove, a group of fighter jets will pass by all of the beaches on the Grand Strand on their way down to Hilton Head Island. To participate, put on your red, white, and blue, and bring the biggest American flag you can find to wave in salute of your favorite hero or heroes. To make this event even more special, attendees are encouraged to snap pictures or videos of their group and post them to the Salute from the Shore Facebook page. Remember, get to your nearest beach before 1 to make sure you catch plenty of the fly-by!
Croissants 3rd Annual Cupcake Eating Contest
This 4th of July celebration of country and cupcakes gains in popularity each year as big eaters from all over compete to see who is king of the little icing-topped desserts. Last year, over 1,000 cupcakes were devoured and at the end of the five minutes two men were tied at 34. The large-stomached duo battled on in overtime for two more minutes and in the end the winner boasted a record 51 cupcakes. The contest is limited to those 18-and-up, and pre-registration is required. The party starts at 2 p.m. in Croissants Bistro and Bakery's parking lot, and the eating action begins at 4 p.m. sharp.
Cool Summer Evenings
Brookgreen Gardens' summer concert series continues on the 4th with the "parent-friendly kids' rock band" Big Bang Boom. The Greensboro, N.C. group will play on the lawn above the Pavilion restaurant beginning at 7 p.m., which gives you plenty of time to hear the show and then make your way to see some fireworks. The show is included with regular admission, so arrive early and check out Brookgreen's serene Southern charm.
Family 4th at The Common
Market Common will be hosting a free block party this year for its first ever Independence Day celebration. There won't be fireworks (which you can see at plenty of other spots around the Grand Strand), but the other offerings are plenty – live music, carnival games, golf cart parade, and a beer garden, in addition to all of the eateries and shops around The Common. In place of the fireworks, a free showing of 'Field of Dreams' in Valor Park will take place near the end of the night, so attendees are encouraged to bring something comfortable to sit on. Dogs and kids are also welcome.
Murrells Inlet 4th of July Boat Parade & Fireworks Display
Beginning at noon, the 31st annual boat parade will start out at Garden City Point, make its way through the Marshwalk area, and then around to the Murrells Inlet Jetty View Walk. After cheering on the patriotically-themed boats, go home and take a nap. Then head back down to the Inlet and grab dinner at any one of the numerous restaurants before the big fireworks show starts at 10 p.m.
June 23, 2014
It is almost time again for one of Conway's most awaited annual events, Riverfest! On June 28, 2014 from 11am to 11pm the town's longest running festival will be awaiting your arrival. Presented this year by Agape' Senior and cosponsored by The City of Conway and HTC, this all day event will be held in downtown Conway and will consist of wonderful food, drinks, parading, kid zones, vendor booths, fishing tournaments and live entertainment lasting all day. Admission to Riverfront Park which will open at 3pm is $5 per person and kids 12 and under are free! So mark your calendars and be prepared for some fun in the sun at Conway's annual Riverfest!!
June 23, 2014
A safety tip that has been proven to help prevent break-ins, theft, or unwanted trespassing is keeping your car keys beside your bed at night.
Tell your spouse, your children, your neighbors, and your friends. 
If you hear a noise outside your home or feel that someone is trying to get in your house, just press the panic button for your car. The alarm will be set off, and the horn will continue to sound until either you turn it off or the car battery dies.
This tip came from a neighborhood watch coordinator. Next time you come home for the night and you start to put your keys away, think of this: It's a security alarm system that you probably already have and requires no installation. Test it. It will go off from mostly everywhere inside your house and will keep honking until your battery runs down or until you reset it with the button on the key fob chain. It works if you park in your driveway or garage.
If your car alarm goes off when someone is trying to break into your house, odds are the burglar/rapist won't stick around. After a few seconds, all the neighbors will be looking out their windows to see who is out there and sure enough the criminal won't want that. And remember to carry your keys while walking to your car in a parking lot. The alarm can work the same way there. This is something that should really be shared with everyone. Maybe it could save a life or a sexual abuse crime.

March 5, 2014
It looks as if Horry County has introduced it's newest addition to the Sheriff's office, K9 deputy Kane. Deputy Kane is a 27-month old sable German Shepherd from Germany. Deputy Kane's primary duties will be narcotic detection at the detention center, home detection searches, and vehicle check points. Kane's handler, Deputy Kenneth Martinelli, after undergoing 3 weeks of training together, raves that Deputy Kane is the smartest K9 he's ever owned and is also a bit of a workaholic.  
Feb. 11, 2014
Check out our office party! http://nofilterforum.blogspot.com/
Aug. 31, 2013
Katie Brookshire just posted a video of one of our favorite home listings at 3101 Poplar Church Rd. This is in a beautiful country setting close to the Hwy 22 Conway Bypass for quick access to Myrtle Beach. Give us a call to take a look at this fantastic property. 
Aug. 26, 2013
We normally follow about a year behind the west coast but 2.5% is sure a move in the right direction. I used to joke around with my California cousins when their fashion seemed strange to those of us on the east coast, but soon learned that the "fads" moved here a few years later. Guess real estate is the same!